Ennostar Takes First Steps Toward Sustainability and was Recognized by the Taiwan Corporate Sustainability Awards
Ennostar has been committed to corporate sustainable development since our establishment formation, and this year participated in the Taiwan Corporate Sustainability Awards (which many consider to be the Academy Awards for sustainability in Taiwan) for the first time in tandem with our three subsidiaries EPISTAR, Lextar, and Unikorn, receiving the Silver Corporate Sustainability Report Award for the first electronics and information manufacturing category! This was a recognition of our transparent disclosures of ESG achievements and responses to the UN SDGs detailed in our corporate sustainability report, as well as the simultaneous disclosures of ESG achievements on our corporate website, which provide our stakeholders with timely and diverse communication channels.
▲Ennostar Vice President Dale Yang accepts award on behalf of the company
Ennostar commenced ESG developments in 2022, establishing a dedicated sustainability unit to coordinate the Group's sustainable development strategies and internal and external resources. An ESG Committee was also established under the Board to compile quarterly reports of ESG implementation results and future goals to the Board, strengthening corporate governance from top to bottom, and demonstrating our determination in promoting sustainable corporate transformations.
In the face of climate change, Ennostar responded to the government's 2050 net zero emissions initiative, actively formulating carbon reduction paths and green power procurement plans. In 2022, Ennostar's three main subsidiaries (EPISTAR, Lextar, and Unikorn) all passed ISO 14064-1:2018 greenhouse gas inspections and verifications conducted by an impartial third party. Green electricity policies were also formulated, and we aim to achieve the RE100 goal in non-production sites by 2030 and the RE100 goal across the entire Group by 2050.
Concerned by the impacts of human activities on the earth, countries all around the world have announced plans to meet 2050 net zero emissions goals. The EU also initiated the Carbon Border Adjustment Mechanism (CBAM), making certificate purchases a threshold for product entry to the European market. In line with the advent of the global carbon pricing era, the Ennostar Group joined the Taiwan Climate Partnership, taking practical actions in response to international carbon reduction trends through collaborations with industrial supply chain partners and working with technological industry peers in Taiwan, thereby enhancing industry competitiveness and expanding industrial influence.
Apart from active participation in external organizations and activities, Ennostar also established a Sustainability Academy within the Group which invites experts to host lectures and practical workshops themed around various issues. These courses help to provide all our colleagues with a comprehensive understanding of sustainability issues, forming an atmosphere steeped in sustainability knowledge within the Group, which we hope can strengthen the sustainability DNA of our colleagues while incorporating ESG concepts into routine business activities, thus enhancing the Group's commitment toward sustainability.
This award is both a recognition of our efforts and a responsibility. In future, we will continue to fulfill our duties as we work with all employees, supply chain partners, and industry peers to build a vision for sustainability, strengthen corporate resilience, and continue to promote transformations and practical actions associated with corporate social responsibilities as we make strides toward corporate sustainability and net zero goals.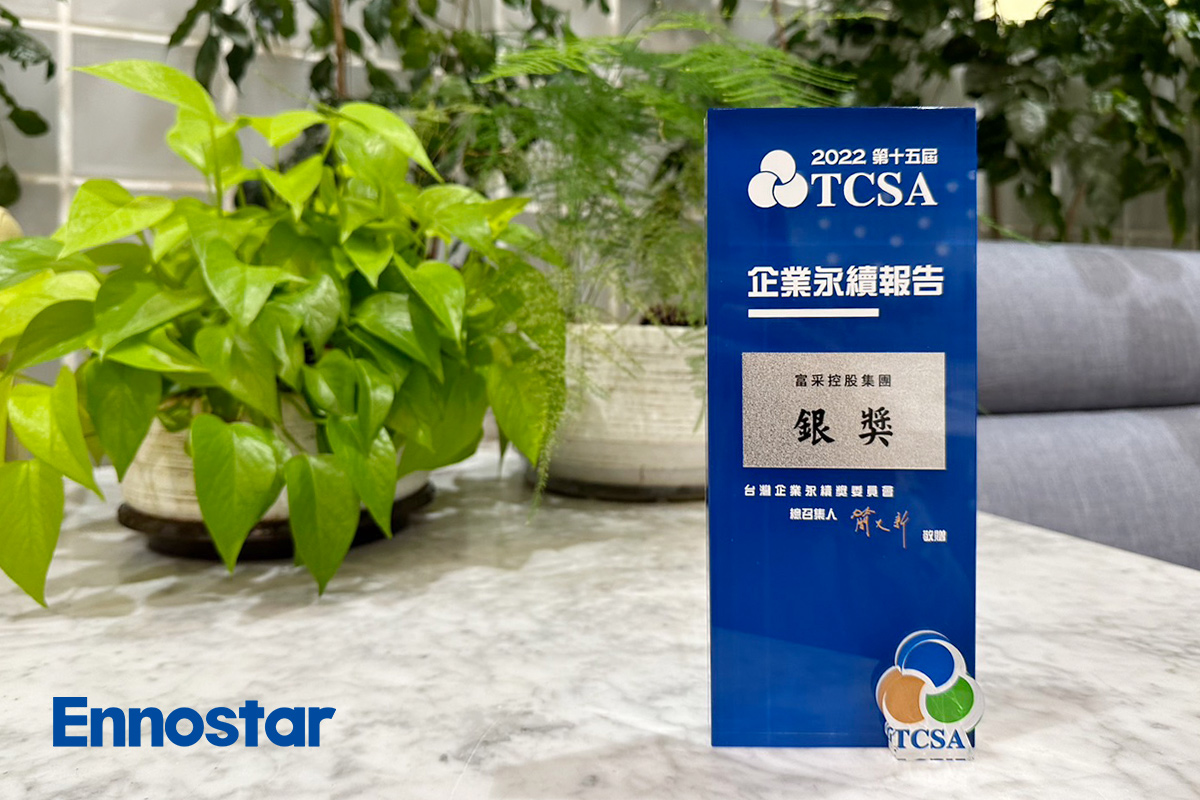 ▲Ennostar entered the Taiwan Corporate Sustainability Awards for the first time and received the Silver Corporate Sustainability Report Award.