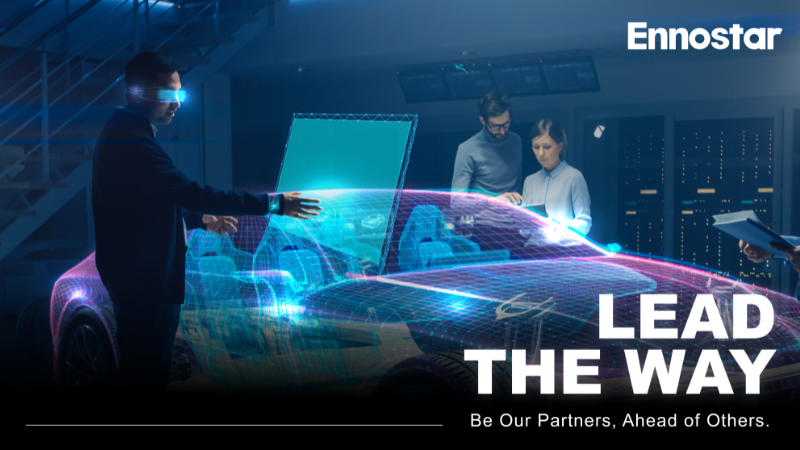 Ennostar Group (Stock Code: 3714) and its subsidiaries (EPISTAR, Lextar, Unikorn, Yenrich and ProLight) together greatly exhibited the latest cutting-edge technology products and research and development technology to demonstrate the comprehensive benefits of group integration at 2023 Touch Taiwan from April 19 to April 21, 2023 with the theme of "Lead the Way" which focused on topics of Micro LED, Mini LED, automotive, sensing, metaverse and next-generation compound semiconductor.
Showing technology re-evolution and planting new epoch-making seedlings of Micro LED
With the diversified development of the ultimate display technology, Ennostar's Micro LED solution not only continuously injects new blood into the industry, but also ready   for mass production. With the ultimate goal of "Be Simple, Be Popularized", EPISTAR is committed to assisting partners to solve key problems in the application of Micro LED, making the technology simpler and more popularized. 6-inch Chip on Wafer (COW) and 8-inch GaN on Silicon were exhibited this time in the exhibition area. In addition, EPISTAR puts forward multiple solutions such as COC and PAM based on customer demands, so as to reduce the difficulty and threshold for customers to enter the field of Micro LED display and lead the industry to realize more solutions of Micro LED. Both Lextar and Yenrich showed their exclusively-developed patented i-PixelTM series products in their exhibition areas, including the smallest Micro LED package built with semiconductor packaging process technology, of which the diameter is similar to that of an adult hair; and the ultra-thin packaging thickness (< 150 μm) can be realized by combining chip with thin film technology, so as to greatly reduce large-angle color difference and improve display efficiency and reduce energy consumption. In addition, i-Pixel +TM is the first application in the world to integrate Micro LED chip and AM driving into 0303 package, which avoids the stroboscopic problem of passive driver so the display performance is improved. In this exhibition, Unikorn, which focused on the foundry service of AR Micro LED display, also exhibits the 0.12-inch blue light Micro LED display jointly developed with EPISTAR and Hon Hai Technology Group and applied to AR for the first time, which improves the efficiency and reliability of Micro LED through the development of 4 µm pitch high-efficiency blue light pixel process.
In addition to Micro LED, Lextar also exhibited the backlight technology of exclusive QD LED at the same time. With this technology, the packaging companies can realize painless upgrade and replace the fluorescent powder with Lextar's exclusive QD LED products in the original process structure, so as to enhance the visual hierarchy, provide the display with an extremely thin in thickness and ultra-wide color gamut, and improve the brightness by 30% with less power consumption compared with the previous technology.
As the market leader of Mini LED, Ennostar demonstrated progress in different Mini LED technologies such as COB, POB and DOB through the application products such as automotive, IT equipment and metaverse, solidifying its leadership position in Mini LED field. Among them, Yenrich, which develops super fine pitch LED, also combined Mini LED with various life applications in the exhibition area to enhance the visitors' sense of reality, such as transparent LED display which can be used in boutique show windows, smart charger combined with large curved display and other applications.
Sensing to be an emerging application creating new demands in the future life
With years of development experience in LED industry, in addition to display, Ennostar Group also considers the sensing products as one of its key development areas. EPISTAR exhibited SWIR products jointly developed with Artilux, introduced exclusively-developed patented technology, of which the radiation power is the first in the world, and showed its accurate and real-time detection results through different application products; Lextar launched a SiP PPG product to integrate sensing elements into ultra-small packages with the die packaging or COB packaging technology, which can be applied to small true wireless stereo (TWS). In addition, products of Ennostar Group can also meet the diverse automotive sensing needs such as DMS/OMS, gesture control, providing high-precision and high-reliability solutions to improve driving experience and driving safety.
Being committed to sustainable development by introducing R&D input in ESG
2022 is the first year of ESG implemented in Ennostar, which implement ESG in the daily work after gathering the resources of the Group and deeply developing the ESG concept, and ESG DNA is increasingly incorporated in its products. In this exhibition, Ennostar exhibited its globally original green LED packaging - BioxtarTM, which is a new era of sustainability. The raw materials are taken from nature and suitable for all kinds of packaging, with the highest content of 75% at most, meaning that the content of traditional petrochemical materials is reduced by 75%, so the penetration and material hardness have better quality, reducing the dependence of traditional petrochemical adhesives, reducing the impact on the environment and showing the spirit of sustainable development. In addition, a number of energy-saving products were showed on the exhibition area, declaring the determination of Ennostar to implement ESG to the public.
Group's comprehensive development and integration of multiple applications
With a clear layout direction and a wide range of products from its subsidiaries, Ennostar Group is committed to becoming the No.1 investment platform for compound semiconductors. ProLight, which participated in the exhibition this time, focused on the development and manufacture of high power LED, of which the exhibits include a number of advanced automotive lighting products such as Mini LED Adaptive Driving Beam (ADB) Headlight and Mini LED for Tail Light. WellyHertz, which focuses on developing fast charging technology, exhibited its charging solution for smart life and smart mobile in the exhibition.
Ennostar online exhibition: click here