Use innovative technologies
to provide cutting-edge service quality

Enhancing corporate competitiveness and advancing industrial technological innovations are the core driving forces for sustainable management at the Group. We have incorporated "innovation" in all stages of product and service production from development to manufacturing through full resource investment and rigorous quality management.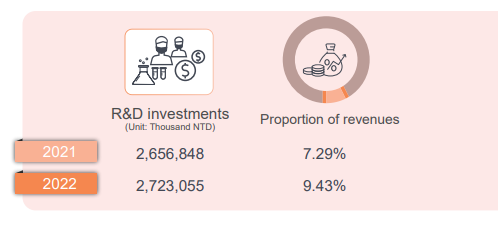 InnovationInnovation Visions and Strategies
We established six visions for innovation; set innovation as our corporate mission; adhere to the core philosophy of "providing clients with the most efficient integrated solutions through energy-saving, ecofriendly materials and processes"; and formulate innovation management strategies for customer problem fit based on "market positioning," "professional innovation," and "innovation benefits" as well as the two perspectives of "professionalism" and "innovation."


The Group has established standardized technology development specifications for product development to shorten time to mass production. We have also increased development momentum and investments to maintain stable OEM revenues and market competitiveness, extend process platform technologies, meet client product requirements, and effectively reduce development costs.
Respond to Diverse Needs of Global Clients
Apart from developing new products, we also use different business collaboration models to provide solutions that meet diverse client product design and engineering needs. We consider our clients to be important collaborative partners and work to "progress alongside our clients," an attitude that motivates our use of innovative production technologies and advanced processes as well as our promotion of the "Co-Activation Service" joint development model which enables us to gain a deeper understanding of client needs through joint development and OEM processes as we evaluate product customization, work together to solve product and engineering problems, and develop and manufacture new products in response to specific needs.
Pioneering Compound Semiconductor Advances
Our advanced LED technologies have won favor from international brands. Our Mini LED, Micro LED, and other advanced display technologies have been applied in diverse fields such as automotives, sensors, special lighting products, power components, and advanced compound semiconductors, and have become essential components within information technology product supply chains.
As a leading Mini LED company which has garnered industrial acclaim, we have gradually applied our mass-produced Mini LED chips and modules in multiple display and IT products manufactured by large brands, as well as expanded into diverse fields such as automotives, televisions, and IT; developed two different backlight applications, Mini LED COB (Chip On Board) and POB (Package On Board); and focused on development of ultra-fine-pitch direct view display technology flip-chip Mini LED in 0404 package and special module technology, making it possible to produce 5-meter giant displays with ultrahigh color saturation and deep black. In future, we will lead market developments using the ultra-small flip-chip IC-inside Mini LED 1111 package, which offers ultra-high brightness and transparency ideal for window displays in shopping malls.
Our breakthroughs in Micro LEDs surpass our industry peers and move us closer to mass production in terms of our larger, high-uniformity RGB COW (Chip on Wafer) and 8" GaN on Silicon products. We have also developed a number of key technologies with our strategic partners to solve bottlenecks we may encounter during mass production processes. We premiered the world's first Micro LED technology with microchip in package and transfer technology in 2022, which includes the world's smallest micro-die package with R/G/B Micro LED and active driver, greatly reducing the complexity of module design and also reducing energy consumption by more than 20%. Our innovations in Micro LEDs are also demonstrated in our heightened visual performance. Our 5.1-inch transparent Micro LED display, which uses RGB Micro LED chips and Micro driver IC combined with a transparent glass substrate, has a transmittance rate greater than 70% and brightness levels can reach 3,000 nits.
Focusing R&D on Prospective Key Products
In response to market needs and multidimensional developments, we have formulated prospective plans for new products and invested in R&D for new products related to backlights, lighting, automotives, grow lights, sensors, UVC products, and Micro LEDs: